Mazda CX-30 and SKYACTIV-X, European Press Event, Frankfurt.
Mazda expect to sell 286,000 new cars in Europe this year, up by around 6%, they have seen growth year on year, and expect this to continue.

We went to Frankfurt to drive the all-new CX-30, a Compact SUV measuring 4, 395mm, about the same length as a Nissan Qashqai and many other small SUV's, so is in good company.

It is described by Mazda as a compact SUV but it is hardly that, it has loads of room for five adults, and a good sized boot with 430 litres of space capacity. The width of the opening of the rear door is 1,020mm, so wide by comparison to other similar vehicles.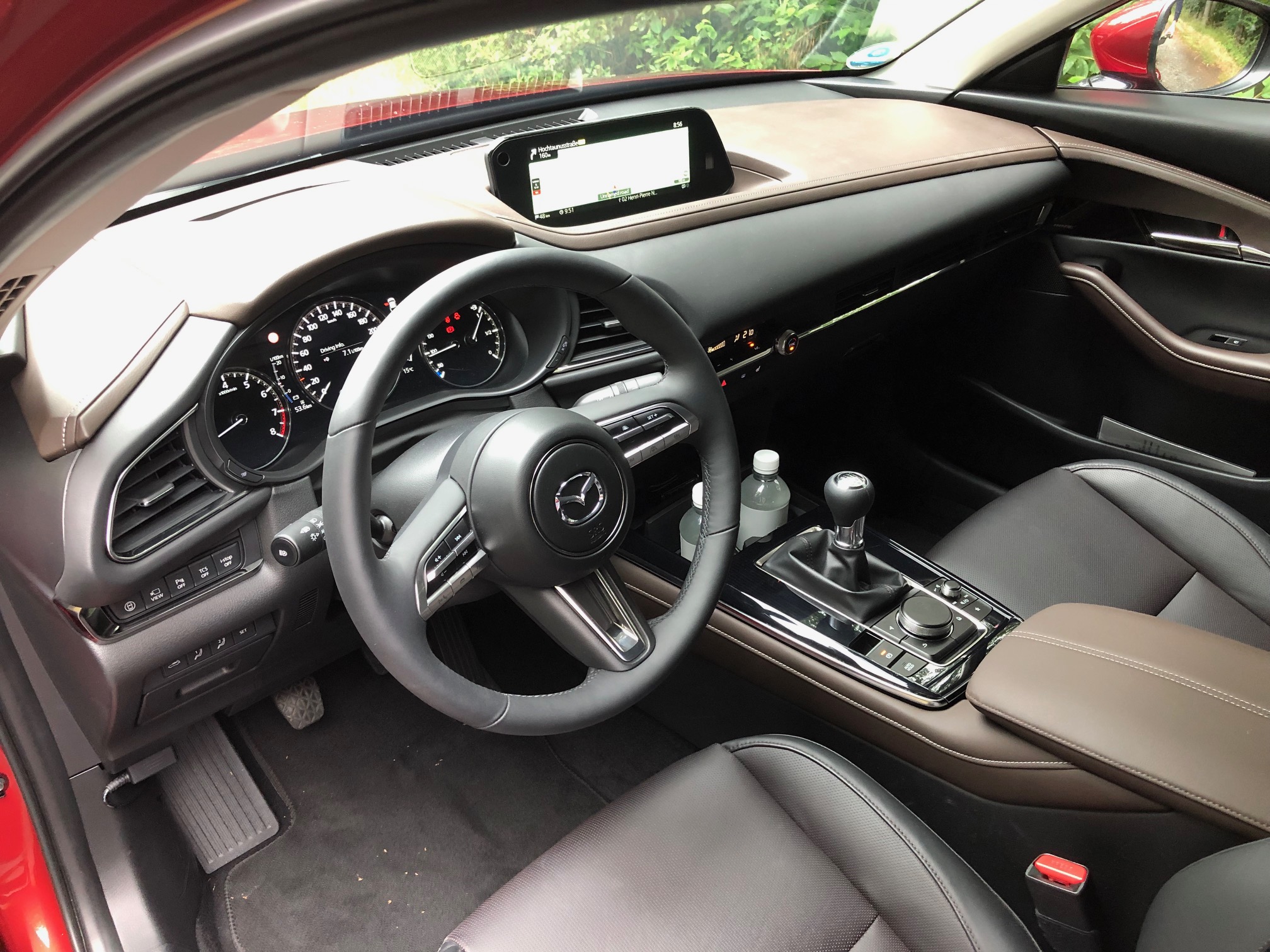 The CX-30 sits in Mazda's range between the CX-3 and CX-5, so you would think it would naturally be called the CX-4. But no, there are numbers considered to be unlucky in Japan, The number four is thought to be unlucky because the word four resembles the word for death 'shi' so consequently it has been called the CX-30.

The CX-30 looks good, and unlike most other new cars being launched it doesn't really have any side lines, or swathe-lines. The body panels are just smooth, no indentations or crisp lines. It gets its lines by the light hitting the panels and creating their own individual lines, and the shape of the car seems to change depending on the way the light or the sun is hitting it, all clever design and body pressing.

There were two engines available to drive in Germany, the Skyactiv-G, a 2.0-litre petrol that produces 122ps, also a 1.8 Skyactiv-D diesel. But because of time limitations and the simple fact that it is unlikely many diesels will be sold in the UK, we decided to spend our time in the petrol.


This 2.0-litre petrol engine, is not the quickest thing on the market today, and you would think it having a large displacement, compared to other manufactures who often use engines with half the cylinder capacity it would be off like a rocket, but no, it is a very steady engine. However, it has enough power for everyday use, and you need to drive it according to its power output, and know its limitations. But it is a quiet and refined engine and has a Mild Hybrid system with Cylinder Deactivation, so only two of the cylinders are used when needed, such as coasting, slowing down, or cruising on the motorway. When braking or going down hills electricity is generated and goes into a battery, this power is then used to help with acceleration, and this reduces fuel use, and consequently lowers emissions.

We happily drove the CX-30 around the edges of Frankfurt, and were surprised just how pretty the countryside and villages were, we just tootled around taking in the scenery and enjoying being sat up fairly high in this SUV.

The interior is up to a very high standard, with fit and finish and materials used all excellent. All the controls are in the right place, and easy to use and understand. The seats are well designed and comfortable. Mazda have managed to design the A- and C-Pillars to minimise blind spots.


Mazda are true believers in their own language and beliefs, the whole company is committed to their own sayings, and use them as often as possible, some of which to the outsider are not that understandable, such as: A more mature Kodo design language combines vitality with greater styling prestige inspired by the minimalist elegance and purity of Japanese art and the beauty of space between objects. And.. the latest Skyactiv Technologies and Jinba Ittai driving pleasure of unprecedented quality. I'm sure if you live and breathe Mazda then it all makes sense. But as you talk to Mazda people, whether they are marketing, design, engineers or PR, then you get the impression they are all so dedicated, and want to offer the best vehicle and technology as possible.

The CX-30 has come at just the right time for Mazda, as the sector that it is entering, is going through an ongoing growing spurt.

After the CX-30 we got into a Mazda3 fitted with the all-new SKYACTIV-X petrol engine that produces 180ps, so quite a bit more powerful than the Skyactiv-G.

This 2.0-litre engine is revolutionary in the engine world. Mazda looked at both petrol and diesel engines, and their very clever engineers decided to try and combine the best of both engines. And after a couple of presentations by Mazda's top engineers and designers, I still wasn't exactly sure how it all works. It basically uses advanced Thermal Technology, and a new combustion principle.


This new engine uses a higher air-mix with petrol, making it more lean-burn, which gives it more power and a Torque improvement. In other words, less fuel is burnt, as combines the spark of a petrol engine with the compression ignition of a diesel, complicated… yes..!!.. but is does seem to work.

As we drove the Mazda3 fitted with this new technology, you really couldn't tell you were driving something different, which in one way is good. As you take your foot off the accelerator to change gear, the engine revs seem to stay fairly high, all ready to take up for the next gear. Normally the revs would drop, you press the accelerator to keep going and maintain speed, but the 'X' engine thinks ahead and does it for you. This engine also has the advantage of having the Mild-Hybrid system, which again helps reduce fuel usage, and keeps emissions as low as possible.

But this new technology, and new engine does come at a cost – just over £2,000 more than the equivalent 'G' engine, whether buyers will think it is worth it, remains to be seen. But as more and more move away from diesels then the SKYACTIV-X will be a more natural choice.

A good day out in Germany, and I feel I learnt an awful lot, just hope this short piece does it justice.
Let's keep in touch.
Thanks for signing up.
Join our mailing list to keep up to date on the latest news, reviews and insights.