Geneva Motor Show 2018
This is the 88th Geneva motor show, and probably one of the best in Europe for many reasons, it is small enough to walk around in a day, most manufactures are represented, including some smaller unknown ones, and the larger manufacturers are all there. For those who have been, they know it is just a ten minute walk from the airport, so no buses, trains, or taxi's are needed.

I went in and out in the day, 07.00 from Liverpool, and got back into Liverpool at 10pm. But for those who have to stay in or around Geneva, this can prove a costly event, and to get a reasonably priced hotel, then the time to travel is often more than the flight time from Switzerland to the UK.

A great show, and well worth visiting, with some interesting vehicles to see.


Toyota – The all-new Auris made its World Premiere at the show, it has some very nice lines, it's very stylish and is a much nicer looking five-door hatch than the current car. We are not sure yet whether it will be, like the current car, built in the UK but hopefully it will be. The main advantage with this new Auris is that it will be available with petrol powered Hybrid.

Toyota also showed a very large, Hydrogen powered, Fuel Cell SUV, called 'Fine-Comfort Ride' for some unknown reason. This car is unlikely to come to market, but if it does, it will be an interesting proposition.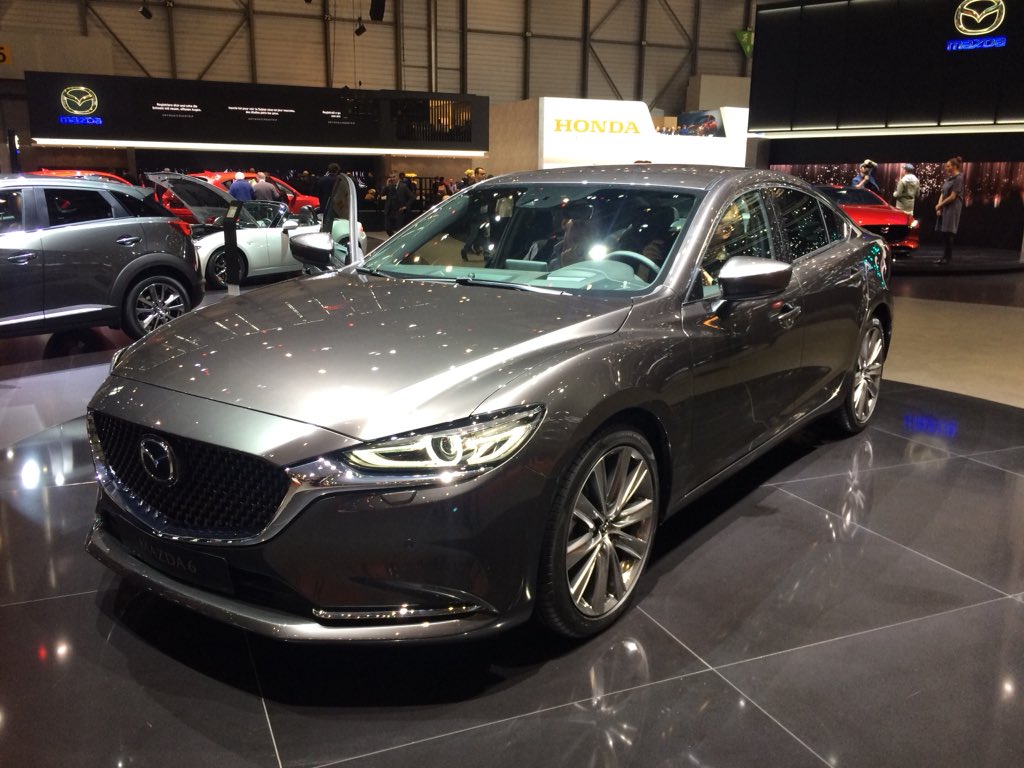 Mazda – The new, or facelift Mazda6 was on the stand. It has been tidied up quite a bit, but you would need to see the two side by side to really appreciate the changes Mazda has made.

Citroen – had a couple of new cars on their stand, first the new C4 Cactus, which has lost the AirBump (pieces of plastic mouldings on the side of the car, and on the tailgate) many will be delighted that these have now disappeared, others will be disappointed, me personally – I think it looks much better and more 'normal'. This Cactus not only replaces the old Cactus, but also the C4 Hatch, so kills two birds with one stone. This new Cactus also has new, much more comfortable suspension and nice comfy seats.

Also on the stand was the all-new, much improved Berlingo, a good looking van, and also a good, large useable people and goods carrier when it has windows and rear seats.

Peugeot – had the world premiere of the all-new 508, a very handsome five-door hatch, with a great interior, and a really nice dash, although at the show, there were mixed reactions to it. This 508 is full of new technology, and if a D-Sector hatch was to do well then this is the one. But as we all know, this sector is fighting a battle with all the SUV's now available in the market.


Mercedes Benz – showed the new A-Class, which is more a mid-life facelift than an all-new car. I did catch someone asking a representative from Mercedes if this is the new A-Class. It is different, and improved, but another car where you really need to see old and new side-by-side to appreciate the new styling, and improvements.


E-MOKE – I have seen this electric version of the Moke before, and every time I see it, I just think what a great idea. It has a range of either 80km or 150km, depending on which batteries the customer choses. Prices in France start from around 20,000 euros. They hope to start selling the E-MOKE in the UK in 2019.


PAL-V – a company I had never heard of, but are just about to start selling an interesting form of transport, a flying car. It has already gone into production, and available to buy. It runs on normal petrol, and has a range on the road of around 1,300km , and in the air around 400km. Prices for the first ones will be around half a million euros, which they say will reduce to around 300,000 euros in time. You need to have 40 hours of flying lessons and then you are up in the air, avoiding traffic jams, and congested roads – perfect.


Audi – showed the new A6, and although it is very much an A6, it has much nicer, crisper lines, that are very clever and no doubt the amount of engineering that goes into making the body panels is complex and expensive, but worth it. The new larger grille is bold, and you'll certainly know what it is when you see it in your rear view mirror.



McLaren showed the stunning Limited Edition Senna, which looks a monster, it will be incredibly quick, yet safe, and if its anything like other McLarens we have driven, it will be very docile, and easy to drive in traffic, cos that's what McLarens are good at, like the dance – slow, slow, quick, quick – slow.






Volkswagen – showed not one, but four concept vehicles, and trying to show the public a view of the future. As we all know most Concept cars never see the light of day, but at least two of these four should hit the production lines sometime in the future, how long? – Nobody could answer that. But I did especially like the Camper Van Concept – now that would sell.




Bentley – showed us the future with a plug-in Petrol Hybrid, yes a plug-in Bentley – whatever next? – but what you save on petrol… you can spend on Champagne, and keep it chilled in the fridge in the boot, presumably using the electric you got from the charging station.


Jaguar – the long-awaited i-Pace finally broke cover, not only as a fully finished car, but Jaguar also showed a shell of the car, with all the technology exposed for all to see. This pure electric SUV has a range of around 380km, so will be very useable. It looks great, and will no doubt be in high demand, not only in the UK, but around the world





KIA – had the world premiere of the all-new ceed hatch and Wagon (estate car in Britain) and a couple of good looking vehicles they are too. This new ceed (no apostrophe anymore – its disappeared – it used to be cee'd) gets new engines, new technology, and much improved, premium interiors. Due in the UK late summer.





Microlino – showed the electric Bubble Car, based loosely on the BMW Isetta with is hinged front, and only door. Looks great, I'd love to have a go in one.


Skoda – showed their Vision X Concept, half SUV, half Hatch, a splendid looking vehicle. Although this is only a Concept car, it will go on-sale and will probably only change by around 15-20%.. based on previous Skoda Conceot cars , that came to market.








Lexus – The UX had its World Premiere at Geneva. Difficult to ascertain its true size when you couldn't get close to it on the turntable, but it looked like a compact SUV. Bold lines, clever design, and with Hybrid technology, it should appeal to many people.


Porsche – showed a Concept Study called the 'Mission E Cross Turismo' not exactly a catchy name, but I can see what they are trying to achieve, a blend of a sporty SUV mixed with a large hatch, and new technology – looks good though eh….


BMW – showed the new X4, it is very different, and has some lovely lines, a very stylish SUV, or is it a Coupe Hatch, whatever it is, it is a very pretty and useable vehicle.


Lamborghini – no show would be complete without an outrageous car from the Italian company, and this year they showed the Huracan Performance Spyder, what can you say except ….WOW. Difficult decision now though… a Lambo or a Mclaren..?

Lamborghini also showed a production ready Urus. Now I saw this car a few months ago at the factory in Bologna, and the first impression was not great. But now I'm sort of changing my mind, a bit. The car at the show was really quite impressive. I don't know what they have done or changed recently but it does look a whole lot better, and now looks like it should be part of the Lamborghini family. There are many shared parts with Audi, and that is no bad thing. Prices are expected to start above 200,000 euros in mainland Europe.


Hyundai – showed the all-new Santa Fe, a large SUV, and people carrier available with seven-seats. A much improved car, with better styling and new technology. There was a lot of interest in the car, on the stand, so taking decent photos proved to be very difficult.

Volvo – The new V60 had its world premiere at Geneva. It looks long and sleek and very modern, but still has the traditional Volvo looks, a very attractive looking estate car.

Peugeot also brought the sister to the Berlingo, the Rifter available as a van, an off-roader and a people carrier, good looking and very practical.

Peugeot also brought to the show a massive, blue plastic Lion that almost took up half of their stand, well not really, but it was big. Not sure why it was there, but it did have its picture taken quite a bit.

After walking around the show for many a mile, or kilometre, as we were in Europe, it was obvious that changes to styling, and new technology is just around the corner. We have had flying cars before, but never really materialised in the real world, but the one shown in Geneva really is a reality. A new term for some cars has been created and that is 'Leisure Activity Vehicle' or LAV as it will become known, and not sure this really works in the UK.

A good show, well organised and thanks have to go to the exhibitors for spending all that money for us to see their latest products and innovations, and a relief that the weather got better in the UK and Switzerland, if the show had been a week earlier, very few people would have got there due to travel restrictions.
Let's keep in touch.
Thanks for signing up.
Join our mailing list to keep up to date on the latest news, reviews and insights.